Services Overview
At White Construction Company, we welcome the tough jobs, the ones with critical completion schedules and complex requirements.
We use leading-edge technology for estimating, planning and project management. Our intensive pre-screening services ensure quality and consistency of subcontractors. Whatever the size and scope of your project, our seasoned team of industry professionals will surpass your expectations. Our integrity shows at every stage of the process. No cutting corners. No compromising on accuracy or quality. No excuses. Our success depends on your success.
Our disciplined processes ensure that every team member is on the same page and can make critical decisions.
We work closely with architects and engineers to ensure accurate cost estimating and constructability.
Our company principals are involved in every project – no layers of bureaucracy.
We encourage personal excellence by rewarding outstanding performance.
We provide good advice, every step of the way.
General Contracting
For more than forty years, White Construction Company has demonstrated expertise in traditional General Contracting, or Design-Bid-Build,  where one phase is completed before beginning the next phase.
We have many repeat clients because we build efficiently and economically while focusing on quality and safety. Our clients are confident in our knowledge of the marketplace, mastery in estimating, detailed scheduling, and accurate bid package preparation. As a result, they keep coming back, project after project. 
Construction Management
White Construction Company is committed to client satisfaction. We focus on building strategic partnerships and collaborative solutions for all of our projects. 
Owners select White Construction Company as construction manager based on our project experience, staff qualifications, and track record of performance. Using this project delivery method, the owner contracts separately with a designer and a construction manager. Design and construction phases overlap, allowing us to provide significant input into a project's constructability, scheduling, and costs before the design is completed. The owner controls the project while our team of construction professionals handles the day-to-day construction issues and keeps the project on track. We provide these services either as an agent, where our client holds all the trade contracts, or on an at-risk basis, where we are responsible for all the trade contracts. Committing to a Guaranteed Maximum Price (GMP) helps to reduce client risk by assuring the project will be built for no more than the contract amount.
Design-Build
White Construction Company is a leader in design-build project delivery by providing single-source responsibility, integrated design, construction planning, and accelerated schedules with open communications and teamwork.
Since construction in the design-build project delivery method runs concurrently with the design process, projects can be completed more quickly than with traditional linear methods. As drawings are developed, we serve as a single point of contact to the client, working with the designers to define functional requirements, refine the budget, and streamline the schedule. Our ability to identify long-lead items, orgnanize smart bid packages, and prepare detailed construction schedules yields positive results, reducing change orders and potentially saving clients months of time and millions in design and construction costs.
Preconstruction Services

A successful project is the result of meticulous preconstruction planning and ongoing collaboration among all parties.
We attend every design meeting and listen with a practiced ear, making certain all objectives are clearly understood and correctly communicated to every member of the construction team. Early involvement is the key to a successful, smoothly running project; at White Construction Company, on-time and in-budget begins from day one.
Construction Services
White Construction Company has earned a stellar reputation in every facet of the construction process by being a trustworthy and fair partner, by watching out for the interests of their clients, and by completing quality projects safely, on time, and under budget.
From full time on-site superintendents and project managers to state-of-the-art software, we provide a superior experience every step of the way. Here is what you can expect:
Thorough, hands-on management of all construction activities from groundbreaking to grand opening
Meticulous planning and scheduling
Detailed and accurate document control
A safe and well-managed jobsite
Proactive Quality Assurance
Fair and timely Change Management
A sense of urgency to complete the project on schedule
Open and honest communication at all times
Teamwork approach to problem solving
Building Information Modeling (BIM)
Building Information Modeling (BIM) is a multi-dimensional digital representation of physical and functional characteristics of buildings and systems. BIM is a relatively young technology and is having a dynamic influence upon the construction industry.  With 40+ years of construction experience, we know that no two projects are the same. Let White Construction Company lead you through the BIM process. We make the process transparent and inclusive while we leverage BIM for the best value to your project.
LEED/Sustainable Solutions
White Construction Company is a member of the U.S. Green Building Council with nineteen LEED Accredited Professionals currently on staff.
Optimizing energy usage is a primary concern for many of our projects. LEED design methods require an integrated approach involving all team members early in the process to produce the most efficient, energy-saving design possible.
White Construction Company also participates in the Austin Energy Green Building (AEGB) program, the first commercial green building program with a rating system that has served as a model for other green rating systems nationwide. Many of our projects in Central Texas are AEGB-rated buildings.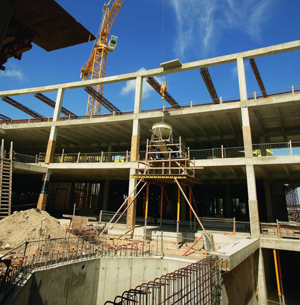 One of our first LEED projects was Dell Children's Medical Center of Central Texas. It became the world's first hospital to achieve LEED Platinum certification. A major LEED initiative was to reduce cement content in concrete by replacing cement with fly ash. Our schedule required a three-day cycle time on formwork. We worked with the concrete supplier to reduce cement content while achieving high early-strength levels without losing time on the schedule.
For the US Courthouse in Austin, LEED Silver certification was a project goal. Submittals for all materials included LEED-required information from the start. Our quality control program ensured that materials delivered matched approved submittals. Construction waste was sorted offsite with 91.5% being recycled. Air filtration was regularly monitored with frequent changes to filtration media. Our program also monitored the onsite use of materials to assure they met stringent volatile organic compound requirements.