Topping-Out Ceremony Held at New AANP Headquarters Site in South Austin
August 13, 2018 12:00 pm Back to All News
---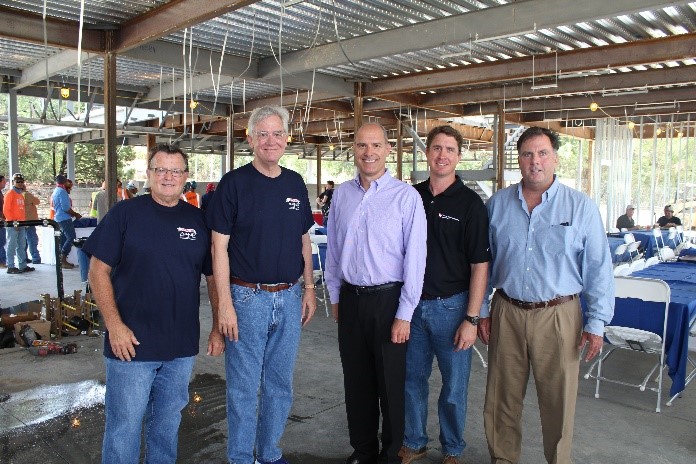 From left to right: WCC Senior Project Manager, Zane Cannaday, AANP CEO, Dave Heber, WCC Vice President, Rob Baugher, WCC Project Superintendent, Michael Swiney, and Tierra Concept's, Scott Taylor, pose for a photo opportunity during the Topping Out lunch. AANP had more than 50 employees present for the exciting event to tour the grounds and show their support.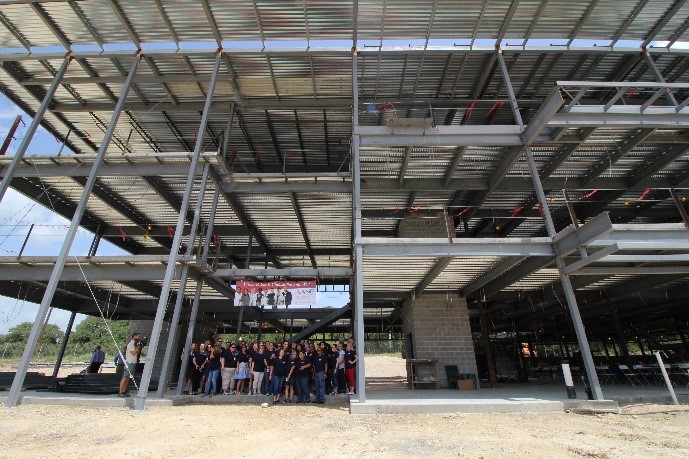 AUSTIN, TEXAS (August 13,2018) Construction on the American Association of Nurse Practitioners' (AANP) new national headquarters in Austin reached a milestone Monday when the 33,943-square-foot structure was topped out at a ceremony attended by AANP staff, White Construction Company (WCC) crew and Architect, Studio8 Architects.

"The building represents the continued commitment AANP has to the Austin community, home of the organization since its founding in 1985, and further solidifies Austin and Texas' position on the map of America's changing health care landscape," said AANP President Joyce Knestrick, PhD, C-FNP, APRN, FAANP.
Ground broke in February of 2018 and is slated for completion in the spring of 2019.
WCC's Senior Project Manager, Zane Cannaday, elaborated, "Our client, the folks at AANP, are a great group of people to work with. Certainly, among the best in my career." He continued, "We also have an excellent working relationship with the Architect and Construction Manager. A big part of the project's success on-site stems from the strong leadership of our Project Superintendent and exceptional subcontractors." 
WCC Project Superintendent, Michael Swiney chimed in, "Having a strong, yet cohesive leadership team on-site is critical to a project's success; as far as progress and safety are concerned. Collaboratively, we have been successful in meeting AANP's needs and ensuring a positive progression of milestone events."
The 33,943-square-foot three-story building, located at 5901 Vega Avenue in southwest Austin, is situated on a 4.199-acre tract of land. WCC's Vice President, Rob Baugher, LEED AP, concluded, "It's been an absolute pleasure working with AANP. We couldn't ask for a better team. From AANP, the Owner's Representative, the design team and all of our subcontractors. We're looking forward to bringing their dreams to a reality and I can't wait until we hand them the keys to this wonderful facility."
About White Construction Company White Construction Company (WCC) is a 47-year-old family-owned construction business with deep-rooted values of fairness, integrity and quality. With more than 100 employees and an average tenure of ten years, WCC enjoys vast experience and knowledge of the construction industry and 80% of business is with repeat clients. With offices in Austin and Houston, Texas, Ridgeland, Mississippi, and Panama City, Florida its business services include general contracting, management and design/build. For more information and news, visit White Construction Company online at www.whiteconst.com or Facebook, Twitter and Instagram.