The Tyndall at Robertson Hill Wins at 2019 ABJ CREA!
May 24, 2019 5:00 pm Back to All News
---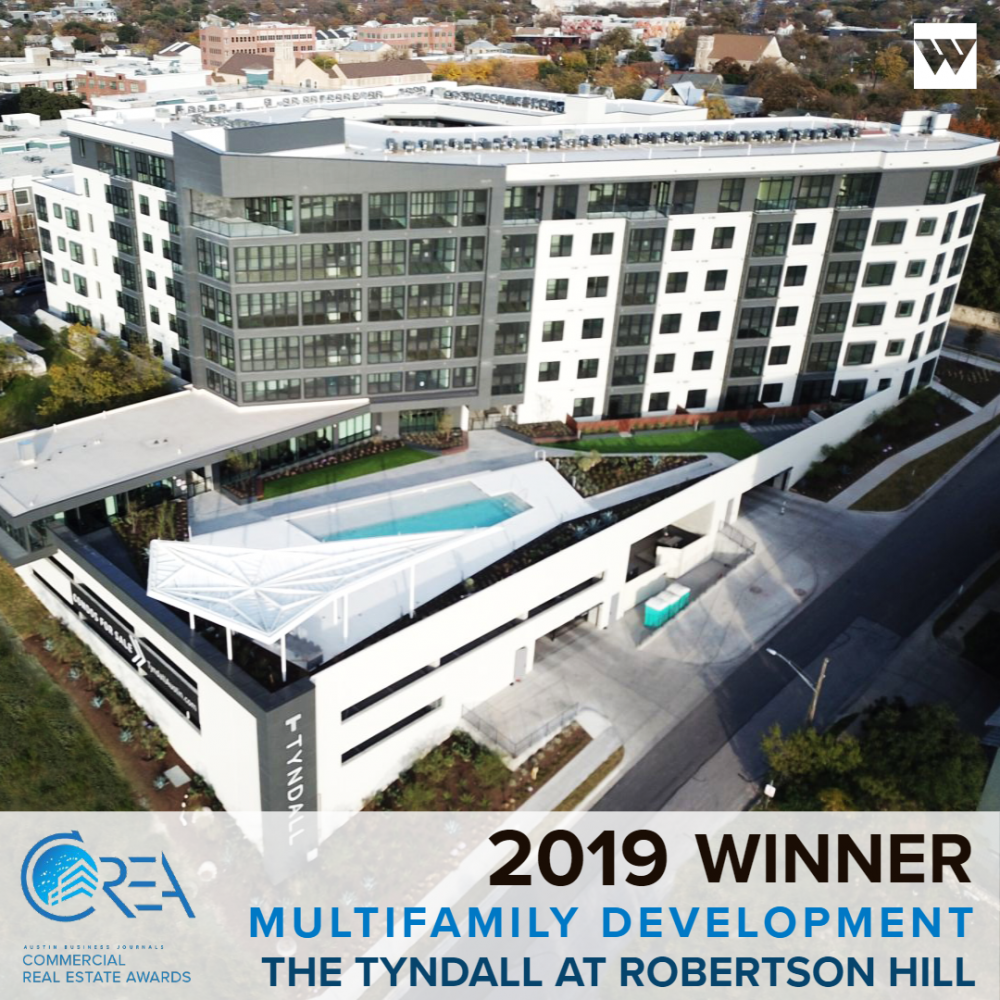 The Tyndall at Robertson Hill won the top award in the Multifamily Development category at the 20th Annual Austin Business Journal (ABJ) Commercial Real Estate Awards (CREA) on Wednesday, May 8, 2019.
The 2019 CREA event took place at the Four Seasons Hotel of Austin and recognized the most dynamic projects and transactions in the Austin metro. There were 10 winners out of 34 nominations spanning from categories such as Community Impact and Industrial Developments to Office and Multifamily Developments, and more. The annual event drew a crowd of more than 200 attendees supporting the nominees and contributors of the fast-growing metropolitan.
White Construction Company's (WCC) Senior Vice President, Rob Baugher, and Project Manager, Walt Ferguson, were present, along with President of Momark Development, Terry Mitchell, Momark Partner, Bob Gass, Momark Project Principal, Lydia Clay, and President/COO of Mathias Partners, Michael Levy. Mr. Mitchell spoke on behalf of the group thanking the community and all those involved in bringing an incredible project to life and expanding into an active Austin area; east of I-35 in the heart of downtown.
Not only did WCC's, The Tyndall at Robertson Hill, win, also nominated in the Multifamily Development category was WCC's Belmont Village Lakeway Senior Living project.
Rob Baugher, stated, "I am grateful that White Construction Company was able to work with such a determined and dedicated team to bring the Tyndall to fruition. We are honored to have received this award alongside so many well-deserving nominees. On behalf of White Construction Company, thank you to the entire project team including Tyndall Partners, LP, Momark Development, Mathias Partners, Humphrey & Partners Architects, Big Red Dog Engineering, dwg., and Leap!Structures. We would also like to thank the 2019 Judging Committee, as well as the Austin community for this prestigious award. Congratulations to all the 2019 ABJ CREA winners and nominees!"
For more information on the 2019 winners and nominees, please visit: https://www.bizjournals.com/austin/news/2019/05/08/austin-2019-commercial-real-estate-awards-winners.html?iana=hpmvp_aus_news_headline