ABC National EIC Pyramid Award - Cline's Landing
March 17, 2022 8:00 am Back to All News
---
WINNER! ABC National Excellence in Construction Pyramid Award - Cline's Landing Condominiums Hurricane Restoration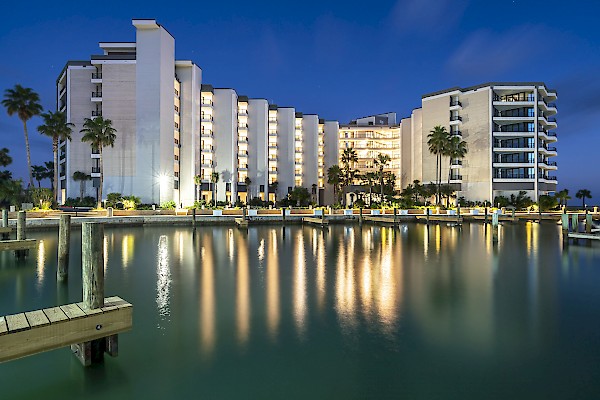 White Construction Company's (WCC) work on the Cline's Landing Condominiums Hurricane Restoration project in Port Aransas, Texas, has earned a national Excellence in Construction® (EIC) Pyramid Award, presented during the ABC Convention 2022 in San Antonio on March 16, 2022. The EIC awards are the construction industry's leading national competition honoring general and specialty contractors for world-class, safe, and innovative construction projects.
Port Aransas, Texas, was ground zero when the devastating Hurricane Harvey made landfall in August 2017. White Construction Company was called upon to help rebuild one of the area's iconic condominium developments, Cline's Landing. The project consisted of two eight-story buildings connected by an atrium and housing 108 individual units. About 95% of the building's interior was removed, while the concrete structure and some of the skin remained in place. The biggest challenge was to replace aged and damaged structures, systems, and finishes with the required precision meeting standards now and for decades to come. This effort required sensitive and responsive problem solving and collaboration with designers, sub-contractors, and owners.
The EIC award honors all construction team members, including contractors, owners, architects, and engineers. The winning projects are judged on complexity, attractiveness, unique challenges overcome, completion time, workmanship, innovation, and safety.
A panel of industry experts served as the competition's judges. This year's judges included representatives from the Smithsonian Facilities Construction Division, Construction Management Association of America, Engineering News-Record, Design-Build Institute of America, University Research Institute, and various construction-related firms nationwide.
"Over the years, ABC has been honored to award outstanding construction projects like Cline's Landing Condominiums Hurricane Restoration by White Construction Company," said 2022 National Chair of the ABC Board of Directors President Stephanie Schmidt. "Through hard work on this project, White Construction Company, alongside Cline's Landing Homeowner's Association (Owner), and STG Design (Design Team), shows the value of teamwork, overcoming challenges, and creativity on the jobsite."
WCC President and Chief Operating Officer Steven Burch elaborated on the significance of working on Cline's Landing, "After 50 years, White Construction Company continues to proudly serve our communities. We take pride in respectfully working together to listen, learn, and grow. After Hurricane Harvey, we had the opportunity to serve the Port Aransas community and the residents of Cline's Landing. This complex project required extensive teamwork to problem-solve and successfully restore the homes of many Port Aransas community members. Although we are proud of the project's success, this was more than a project to us. We value the transition of partnerships into longstanding relationships as we seek opportunities for "Building Success Together."
Congratulations to our teams and all 2022 recipients! A full list of EIC winners is available on ABC's website.